What is a Prosthodontist?
Prosthodontics is that branch and specialty of dentistry concerned with the diagnosis, restoration and maintenance of oral function, comfort, appearance and health of the patient by the restoration of the natural teeth and/or the replacement of missing teeth and contiguous oral and maxillofacial tissues with artificial substitutes. (Canadian Dental Association)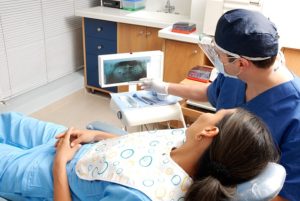 Prosthodontists are experts in the restoring the function and beauty of teeth – they make smiles look beautiful and function the way they should. Prosthodontists can restore oral function by restoring the shape of the tooth (fillings, crown/bridges) or by replacing the missing teeth (dentures, crowns, implants, etc.). Extensive training and experience give prosthodontists a unique understanding of the dynamics of a healthy smile and mouth.
Learn more about our other dental specialties:
ORTHODONTIST | PERIODONTIST | ORAL AND MAXILLOFACIAL SURGEON